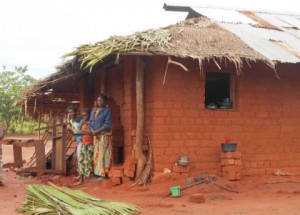 40 Clinics Sponsored!
Two months after the official launch of the Congo Clinic Initiative, we are celebrating 40 partners! Our goal is 108 partners, for the 108 clinics run by the Covenant Church in Congo, and thanks to you we are well on our way!
Pastor Dan Johnson at Hilmar Covenant Church just contacted us with the exciting news that they are committing to a full clinic partnership. The church had already made a commitment he described as "a leap of faith, pledging $5,000 for five years to sponsor half a clinic, trusting that God would provide this amount. Instead, God has increased our 'leap' and made it possible for us to go the whole distance and sponsor an entire clinic!" 40 communities, churches, and families have taken a leap of faith to partner with a clinic in Congo.
Pastor Dan was looking for a church to help them with the full $10,000 sponsorship amount, but the "leap of faith" was unexpectedly completed by a family in the church! They talked with Pastor Dan about committing to give $5,000 from their family each year. Together, Hilmar Covenant and this family will partner with a clinic in Congo!
We're seeking 108 partners for 108 clinics. Each one of these 108 partners may be many people coming together. A partner can be a church, family, or individual – or it can be a group of these. Working together, we can raise the standard of medical care in Congo.
Watch our video for more info!