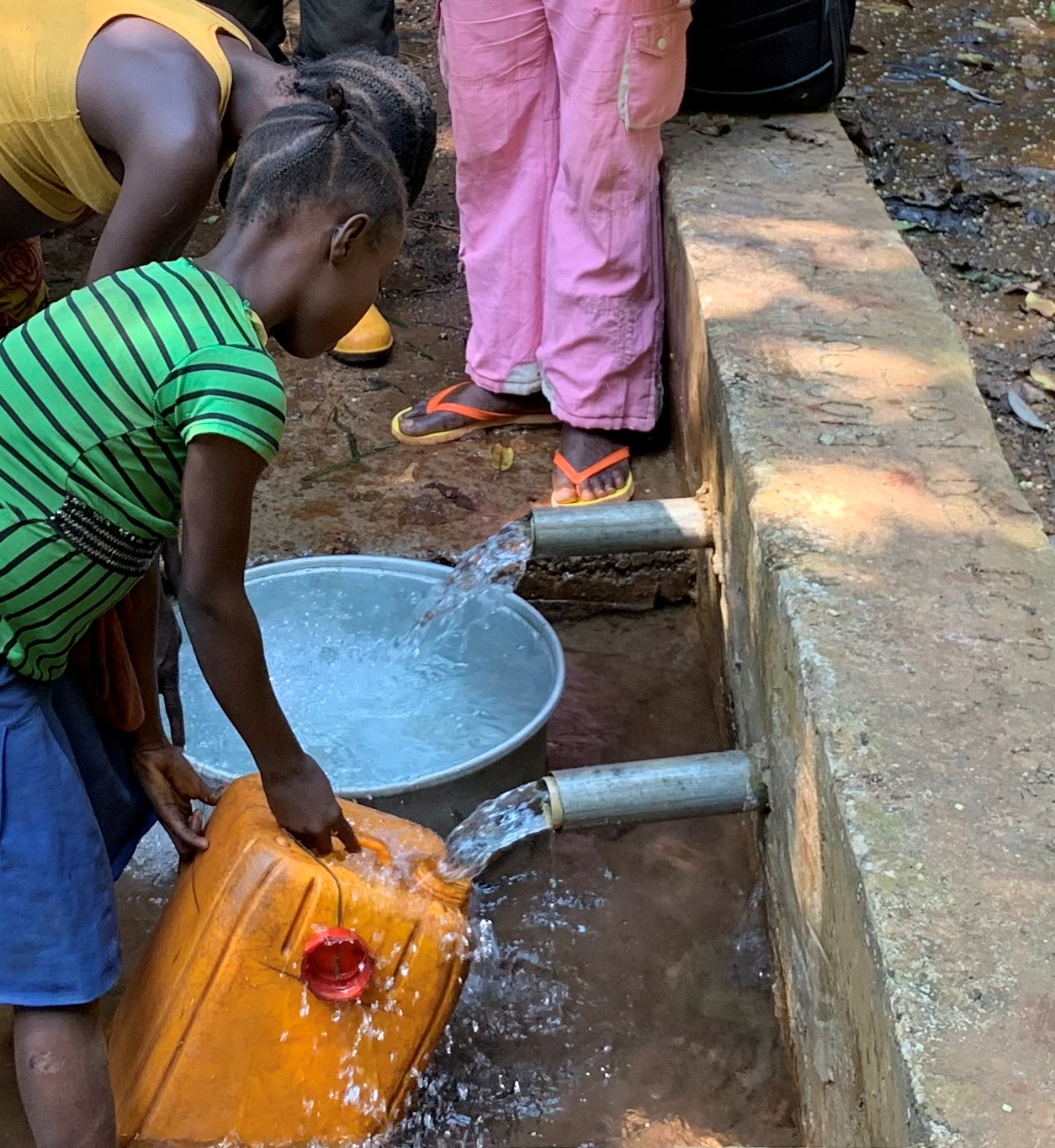 Ophthalmology Scholarships
Désireé ATONGA NDELE and Matthieu KANGI KAFI are two nurses from the Karawa area who were chosen by the CEUM to attend a three year training program in ophthalmology. These two individuals were chosen based on the integrity of their Christian walk, high intellect, and commitment to the return to the Karawa area where they have family. These nurses will receiving training in Kinshasa and will return to Karawa to carry on eye care for the general population that ceased in 2017 when the only trained ophthalmologist in the area passed away. Several Medical Ambassadors and another donor contributed funds for the first year of training. However, due to COVID-19 the training program has been delayed.
Through gifts from several generous donors, the first year of their training ($21,600) has been funded. PCP is seeking $16,200 each year for the second and third years of their training program (total $32,400).
My name is Désiré ATONGA NDELE, born in Bondia on October 14, 1972 to father ATEKA ELENGE Leopold and mother TONDI MONDONGA Alice, who died 3 years ago. My father has been alone since my mother died. My father is still alive and has been working for several years as a teacher in Bominenge located 26 km from Karawa on the Karawa-Gemena road. My mother was also a teacher.
I am originally from Mongala Province located about 200 km from Karawa. I was born into a family of 10 children including 5 girls and 5 boys. The older child of our family was a girl who was a teacher until her death in 2004. One of my sisters is a teacher, the other has a degree in nutrition and two others are nuns in the congregation of the Theresian religious sisters in the diocese of Budjala. My four brothers are teachers, one of whom is a secondary school inspector and works in Gbadolite, about 200 km from Karawa. I'm third in our family.
I am married to Mrs. Koyolo Swambi Martine, and father of 5 children including 3 girls and 2 boys. My last child is nine months old. It's a girl. Her siblings are 10 years, 7 years, 5 years and 3 years old respectively. The first three are in school and the fourth will go to kindergarten next year. My wife takes care of our home.
I went to the NAKA Institute in Bangala and high school at the Gbele Agricultural Technical Institute in Bominenge, then went to the NAKA Institute in Bangala where I graduated in 1996 in pedagogy. Then I went to study at the Karawa Medical Technical Institute. This time, it was to study nursing where I graduated from nurse A2. Immediately upon finishing, I was hired at the Karawa Hospital from 2006 to the present. I also work at the Karawa Medical Technical Institute, as a teacher from 2014 to the present.
I was also recruited and worked as a nurse in the neonatal sepsis project of the School of Public Health at the University of Kinshasa for 18 months and an evaluator of the same project for 8 months. I was also the nurse of the ''women first project'', from the School of Public Health.
I also did training on family planning, preventive and promotional management of malaria at the community level. Currently, I am admitted for surgical training to assist doctors in surgical procedures.
I am a Christian and baptized in the Bominenge Parish of the Catholic Church of the Diocese of Budjala in 1988.
What motivates me for this training is that my aunt, my father's older sister and the older sister of their family and mother of 10 children including 4 girls and 6 boys, all living. Her husband was a primary school principal. She was ill and suffering from eye disease. She had gone to see a charlatan for treatment. This charlatan told her that it was the sorcerers, who jealous of yields of her field crops, took from her some of the products she harvested in the fields and put them in her eyes, where it must be treated with indigenous products and it will be cured. But other family members insisted that she consult at the hospital. When she arrived at the hospital and after the examination, it was decided to do eye surgery. As she trusted this charlatan, she refused the surgery and returned to follow the treatment that this charlatan had offered her. She followed this treatment until she became blind to this day. I think that with more knowledge in ophthalmology, I could help in the management but also in the awareness and communication on eye diseases.
Désiré Atonga Ndele
My name is Matthieu KANGI KAFI, born in Karawa on 11/26/1974. I come from BOYAGBAFETA village located 3 km from the Karawa mission on the road that leads to Gbadolite. I have been a nurse since 2003 in the Karawa health zone. Currently, I work at the BOGON Health Centre, located 3 km from Karawa Hospital.
I was born in Karawa to father KAFI SENEMONA who was the nurse of Karawa General Hospital who worked for 32 years in the pharmacy of Karawa Hospital, then died in 2010 and mother SANGOBOA, still living. Their union gave birth to 7 children, including 4 boys and 3 girls, all living. The youngest in our family is nurse Mado Ngbanzego Kafi who works in the maternity ward of Karawa General Hospital. I'm the second in the family. The third of our family is the administrative secretary at the KANANA Agroforestry Centre. He also works in the PCP-funded KCP coffee project. His name is Koso Kafi. The fourth is licensed in epidemiology and now works in the Bwamanda Health Area about 75 km from Gemena and 150 km from Karawa. Another is still in school. The other two daughters are married, one is a mother of four and the other a mother of two.
I am married to Mrs. KOMBATI YAWI Brigitte, daughter of Papa YAWI DANYO, the former district manager of Karawa, who died several years ago and mother TDEAMBALI, alive. With my wife, we have a total of three children, including two boys and a girl, all alive. The oldest is a is a boy and is called Remy NGBANDO KAFI. He graduated in agronomy 2019. He is very interested in agriculture and intends to continue his university studies still in agronomy. The second is ESENGO KAFI Exaucé, a 14-year-old boy who is a student in Grade 8. The youngest is 13 years old and her name is DEAMBALI KAFI Praise. She's at school, too.
I did my primary school at THE EP LIBALA MATITI Karawa where I obtained my certificate of completion of primary school in 1986. Then, I went to high school from 1987 to 1994 at the Karawa II Institute where I obtained my state diploma in general pedagogy before continuing at the ITM Karawa from 1999 to 2003 to graduate as an A2 nurse.
In order to acquire more to better serve the sick, I am now a second-year student at the Higher Institute of Medical Techniques in KARAWA.
After my studies at the Karawa II Institute, I first worked as a teacher at the Karawa ROSSIGNOLS private school for 2 years before enrolling at the ITM Karawa.
Immediately after my studies as a nurse at the ITM, I worked in various health centres in the Karawa health zone, notably at the BOTULUGU Health Centre from 2003 to 2004, at the BONGABO INERA Health Centre from 2004 to 2014, at the BOGBAKUSA Health Centre in 20 14 to 2018, at the KARAWA URBAIN Health Centre from 2018 to 2019 and at the BOGON Health Centre to date.
During my tenure, I have received many trainings with BOTH PCP Medical Ambassadors and other partners. These include Helping the baby breathe and helping the mother survive. Along with the other partners, I received training on family planning, vaccination, epidemiological surveillance, leprosy, tuberculosis and HIV, African Human Trypanosomiasis, Vision 20-20 (eye health), malaria and data management in dhis2, Drug Management, Management of Neonatal Infections, Human, Material and Financial Resource Management of a Health Centre, Sexually Infection Management training in surgery at the reference health centre (unfinished) and emergency neonatal obstetric care.
I am a Protestant Christian baptized since 6/30/1990 at CEUM Mission Karawa Parish. I have been a singer, then a deacon from 2005 to this day. I was a member of the regional council of the LIBALA ecclesiastical region, bordering Karawa from 2008-20018. I was successively Delegate to the CEUM General Assembly in BUMBA 2008, Delegate to the CEUM General Assembly to BOTAKAMBIA 2016 and Delegate to the CEUM General Assembly in BUMBA LOKOLE 2018.
My motivation for ophthalmology training comes from the fact that the Karawa Ophthalmology Department was the only department that served the population of NORTH UBANGI province, SUD UBANGI and MONGALA from an eye health point of view. After the departure of the American doctors, a trained nurse ophthalmologist remained to hold the service. He provided quality care to the entire population who had eye conditions and contributed to the reputation of the health care provided by Karawa Hospital. After his death, the ophthalmology department remained without a technician capable of caring for patients with eye conditions.
The most striking example I have experienced is that of the BOGBAKUSA health guard's wife when I was the nurse there. In 2015, this mother had an eye problem but she still could see. Her care required competence in ophthalmology. We referred her to Karawa Hospital for treatment. When she arrived in Karawa, she was unable to get the care she needed. On her return, she returned completely blind and remains as such until this day. I was deeply touched by this situation. I believe that by going to the school of ophthalmology, I can offer the best of myself to help patients in ophthalmology like this mother who is a mother of the family, who today has become blind for lack of proper care for lack of trained and qualified staff. That's what drives my desire to go to ophthalmology school.
Matthew Kangi Kafi