What Is The Karawa Coffee Project?

The Karawa Coffee Project began with the original vision of Dr. Paul Carlson, who served medical missions with the Covenant Church in the early 1960's. Although his time in Congo was less than two years, Paul knew that without economic growth in the region, people would not have access to the critical medical care they needed.
Therefore, in a partnership effort to ultimately increase the livelihoods of thousands of families, the CEUM and PCP came together to discuss how coffee could be revitalized in the Karawa region.
Together, we seek to revitalize the coffee industry through a strategic partnership with Café Africa, a non-governmental organization (NGO) based in Congo, dedicated to providing economic growth for farmers through the cooperative production of Robusta coffee. With the help
of a very generous donor, the Karawa Coffee Project launched in December 2017 and has had a successful first year.
What is the goal?
Our ultimate goal is to improve small-holder incomes and livelihoods on a long-term basis, which will be a result of the following goals:
reduce extreme poverty
enhance food security
build the economy, and
develop effective agricultural practices.
Coffee production and export used to be a major cash crop in Congo before civil wars and coffee wilt disease destroyed the economy and many farms in the 1990s. What once was a source of income for many families, became only a memory. Some coffee trees survived, but exporting large quantities of coffee was no longer possible. Studies show that Robusta coffee (the variety grown in Karawa) is trending toward steady growth over the next few decades.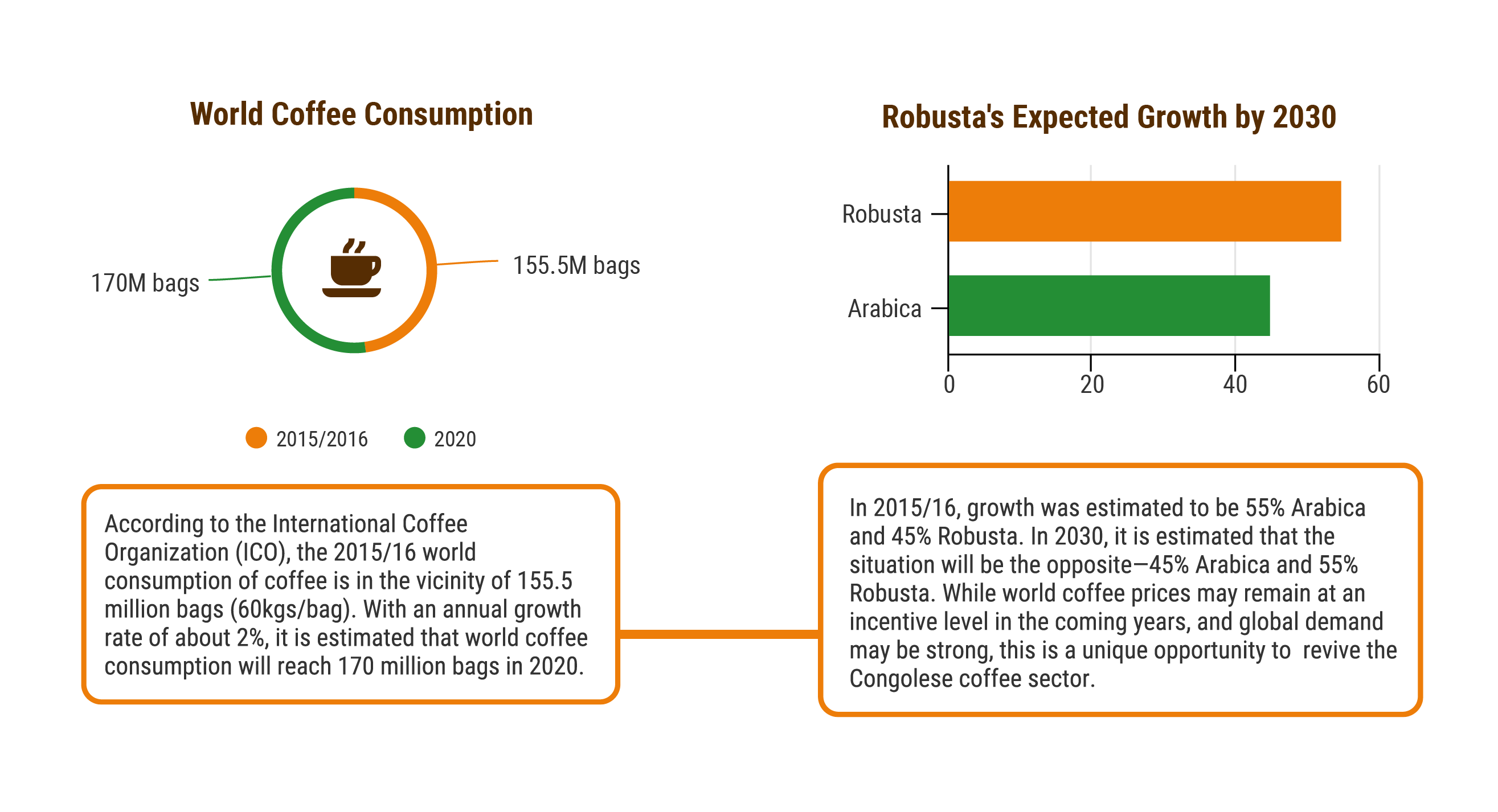 ARABICA
Arabica coffee (coffea arabica) is known throughout the world, as nearly 70% of the world consumes Arabica coffee. It is grown in high altitudes (2,000 to 6,000 feet above sea level), can tolerate temperatures between 59 and 75 degrees Fahrenheit, but not frost, and prefers light shade. Arabica coffee is difficult to grow and is more disease-prone than Robusta.
ROBUSTA: It's in Karawa!
Robusta coffee (coffea canephora) consumption around the world is currently at about 30%, and is primarily used in instant coffees and blends. Robusta is grown in lower altitudes, and can withstand warmer temperatures than Arabica. It is more resistant to disease, and easier to grow. Robusta has a distinctive taste and contains 50-60% more caffeine than Arabica.
The entire project is designed to be owned by farmers (the coffee producers). This will be achieved in part through training in good agricultural practices, and in part by organizing the producers into a cooperative or association in order to provide long-term support for export and other services, and to safeguard producer interests in the marketing of their crops. By training and equipping people to grow coffee, the local economy can be revitalized, increasing the livelihoods of thousands of families in the area.
Keeping management and profits within the associations, Paul Carlson Partnership is working with our partners to create a coffee producing and exporting enterprise that will endure through generations. In the words of our Congolese partners,
Karawa Coffee Correspondents
We are developing a new volunteer program for people who:
love coffee
love Congo
are passionate about long-term growth
are willing to learn
want to join in God's holistic mission
If this describes you or someone you know, the Karawa Coffee Correspondent volunteer program might be a perfect fit! Fill out the form to the right and we will send you more information when the program is available.
Coffee Roasters & Retailers
Are you a coffee roaster or retailer who is interested in learning more about how you can roast and sell Karawa coffee? We are expecting a small harvest in Fall 2019 and are currently looking for roasters who would like to get involved.
Contact us through the form on the right and we'll be in touch.
Give to Keep the Coffee Growing
Join us and support the coffee farmers as they learn good agriculture practices, plant seedlings, maintain nurseries, and cultivate Robusta coffee in their villages.