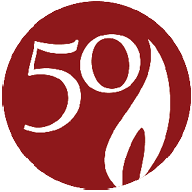 Partners on the Journey: A Special 50th Anniversary Blog Series, Part 6, By Mike Hertenstein
The mythic imagination of Europe made "Darkest Africa" a symbol of mystery, death – and race. Swedish-born Titus Johnson, who'd never seen a black person, was converted by after reading Uncle Tom's Cabin, and determined to take the Gospel to Africa. Credentialed by the Evangelical Free Church, Johnson was an eccentric and driven man – and a man of his time. Like all European missions of the colonial period – perhaps one might say like all of church history – his is a mixed legacy. Even so, Titus Johnson planted a church in the remote Ubangi region which grew to be the Congo's largest Protestant denomination, larger than US-affiliate Evangelical Covenant Church, which assumed initial responsibility for the mission.
Arden Almquist, ECC former medical missionary to the Congo, and later director of ECC World Missions, wrote frankly about shortcomings of the colonial era. He labels the expulsion of missionaries from Congo after independence as a humbling of the proud, and wonders if ECC missionary Dr. Paul Carlson was "a victim of God's inscrutable justice," for sins of the white man against Africa.
The year 1964 in which Paul Carlson was killed brought "Freedom Summer" in the US: activists battled racism, some giving their own lives, as Civil Rights legislation finally became federal law. Fifty years later, the National Guard was still being called in to calm racial unrest in an American city, as both an African American President and Attorney General struggled to find a lasting peace.
Meanwhile, the ECC has become a leader among US churches in growing multiethnic membership and leadership. The story of the Covenant and the Congo now passes, in the words of ECC theologian Soong-Chan Rah, to "The Next Evangelicalism" – with both hard-earned wisdom and humility, a new covenant, seeking to better reflect the unity-in-diversity of a multi-person'd God.