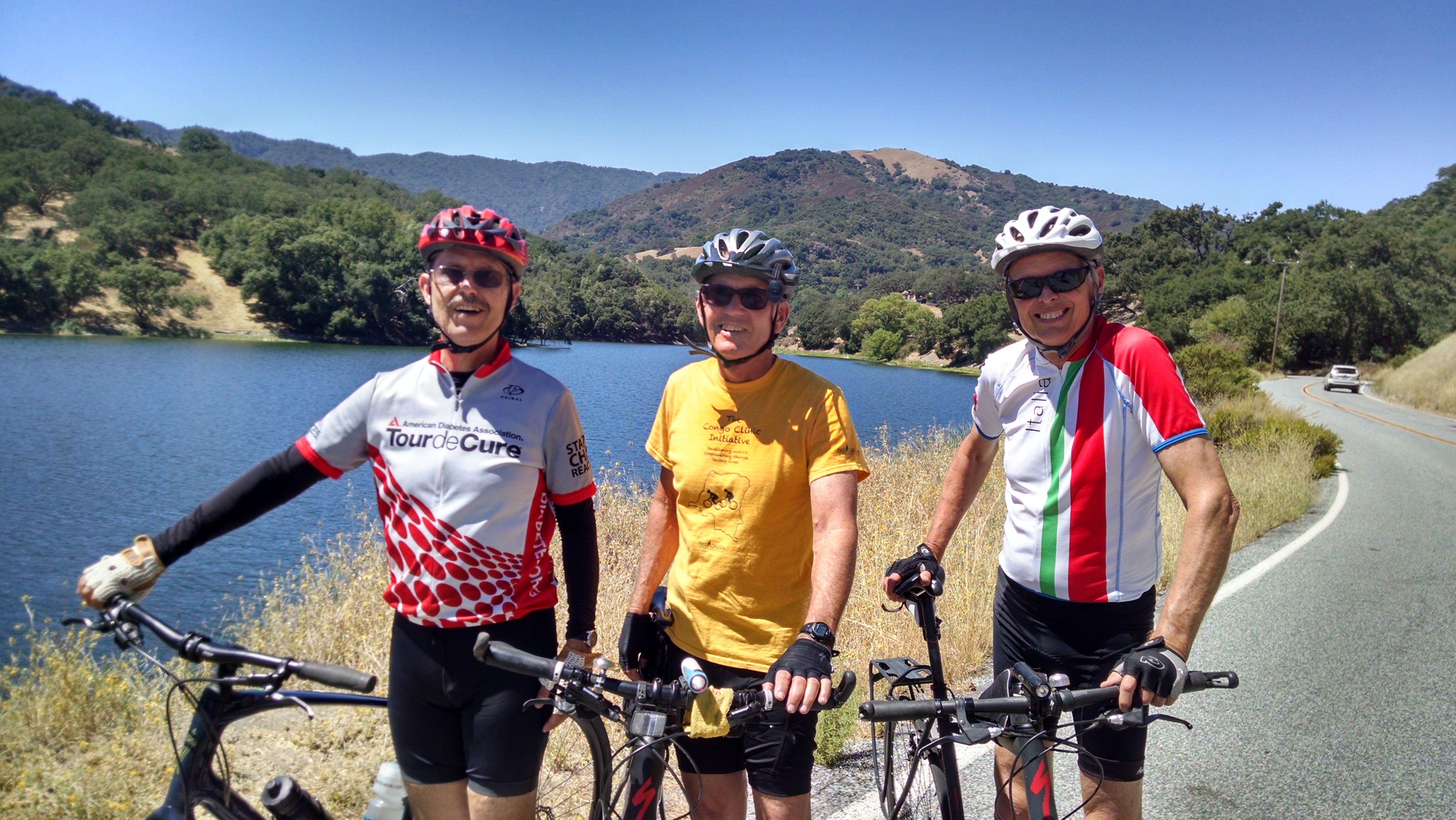 Pastor Dennis Carlson
Faith Covenant Church
Farmington Hills, Michigan
Dear Friends,
Thanks for your prayers, support and encouragement for our Fourth Annual Brothers Biking for Congo ride in support of the ECC's Paul Carlson Partnership's Congo Clinic Initiative! With your help we were able to again raise $10,000+ for rural health care in the NW region of D.R. Congo in Africa where we partner with our Congo Covenant Church.
Earlier this summer in seven weekly rides I logged 322 miles in Michigan. August 17-22, together with my brother and brother-in-law, we rode another 226 miles in six days in and around San Jose/Silicon Valley, San Francisco, and on the Pacific Coast through Santa Cruz to make a total of 548 miles for the two parts of this summer's ride—MI & CA.
The three photos shown:
Day 1 – Brothers Dennis & Rod Carlson, brother-in-law, Ron Peterson (from MI, CA & MN respectively) at Almaden Reservoir, south of San Jose.
Day 2- Dennis and the Golden Gate Bridge in San Francisco.
Day 6—Brothers, Dennis & Rod Carlson above Capitola approaching the end of the ride on the beach below.
Over the of course of four summer rides – IA, MN, MI & CA—my brother and I have ridden 1,636 miles and have raised $50,000+!!!
For more information on the Congo Clinic Initiative and it's work that we have been supporting, click here.
Further contributions will be received until the end of September. For more info go to http://www.4fcc.org/brothers-biking-for-congo.
To God be the glory and Thanksgiving together with the people of Congo!
Pastor Dennis Carlson for Team BBC