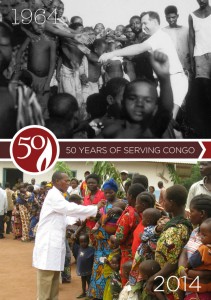 By Naomi Smith, RN
I was the only RN working at Tandala Hospital in 1961 when we were without a resident missionary. Dr. Gordon Johnson had to go home because of his wife's illness and so I was left with a nursing school to run and was on call 24/7. I was a nurse anesthetist and worked with a former Congolese student of mine, Bama Gbayalemo, who had learned to do surgeries like hernias, C sections, and a few other things from the doctors who had been there. This was after Congo's independence in 1960. Missionary doctors like Dr. Thornbloom, Dr. Dennis, Dr. Berquist, and Dr. Paul Carlson would come for a few days or a week from the Covenant stations to help in serious cases and for surgeries. I remember one time Dr. Paul operated on a pastor there who directed the Bible school at Tandala, Pastor Mpenje Jacob, and I gave the anesthesia. Pastor Mpenje was so appreciative and thanked both of us profusely for putting him to sleep and then he woke up whole and felt alive again. I appreciated Dr. Paul's kindness, skill, and generosity because he traveled a long distance from his station at Wasolo, about 300 miles over dirt roads where one could hardly go 30 miles per hour.
In April of 1964, Dr. Warren Berggren became seriously ill. He and his wife Gretchen had just been transferred to Tandala Hospital from Libenge and were settled in their home there. I remember how we brought one of the microscopes from the hospital to their home and were taking slides often of Warren's blood to see if the treatment he was given for malaria was effective. It looked as if he had a malignant strain of malaria and he was not responding to treatment. We called Dr. Paul Carlson from Wasolo to come and also Dr. Helen Berquist from Karawa since she would get there sooner. I remember how they both came in the rain, Paul over muddy dirt roads, 300 miles away. Again, he was so selfless, sacrificial, and upbeat in the midst of a crisis. His presence had a calming effect and reminded us to always be trusting in our great God who provides and cares and answers prayer. Dr. Warren recuperated so he was well enough to return to the U.S. and was advised not to come back to that area again for several years.
I went on home assignment in August of that year and when I heard of the evacuation of missionaries at the end of August, and then the capture of Dr. Paul Carlson, I reported this to the people and the churches I visited so many people were praying. We were so saddened and grieved at the news of his death. He touched many lives.