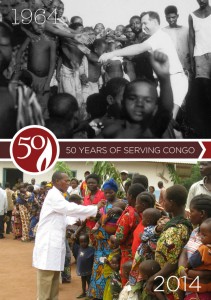 On November 24th, 1964, Dr. Paul Carlson was martyred by Simba rebels in DR-Congo. Today, after 50 years of serving Congo, Paul Carlson Partnership invites you to join us in honoring the legacy of this missionary hero. There are 3 ways to join together and celebrate Dr. Paul, the ministry he inspired, and continuing dedication to long-term development in Congo.
1) Read and share. Our new blog series has launched right here, and includes personal stories. Have a story to share? Please send it to us!
2) Celebrate PCP Sunday this November 2nd. We are sending churches a tool kit to help commemorate this legacy.
3) The Congo Clinic Initiative is our legacy giving opportunity to raise the standard of medical care in Congo. Become a clinic partner today, or make a one-time gift, to honor the memory and sacrifice of Dr. Paul.