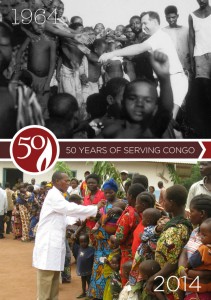 A personal story from Marvin Wickstrom, missionary to Congo
1948 – Illinois
It was in the school year of 1948 – 49 at North Park Junior College that Paul and I were brought together in a seven student apartment. I came from a small town with little experience living in a city and urban life. Paul had just finished two years in the U. S. Navy and had grown up in Los Angeles. In my eyes he was mature. Our common experiences in Covenant Churches and California church summer camps connected us immediately. Paul's model of discipline in study habits, like typing up his lecture notes from classes immediately after the class, taught me that college was important for life. Paul had a vision of where he wanted to go with his education. He helped me through many difficult times.
Christmas vacation approached and we both wanted to spend it with family back in California. He offered his well-used car to "drive straight through" to save expenses. He heard of a professor needing a ride to visit his family in Los Angeles area and Paul offered him a ride. Paul looked out for everyone in need, his empathetic spirit coming through. So we drove straight through, stopping only for gas and sharing the driving wheel amongst us all. Paul's leadership gifts were becoming evident.
1956 – California
Fast forward to 1956 on a hot California summer day in August and who did Fern and I see coming into our wedding: Paul and Lois. They had driven from Los Angeles where he was in a medical doctor residency but wanted to celebrate our wedding together with us. Quite a friend!!
1961 – California
Fast forward again to 1961. Fern and I with our three children were at home in California after our first term of missionary service in the newly recognized country of the Democratic Republic of Congo. Paul was in the Congo for a short term medical stint to meet the great need following the evacuation of many of the Belgian doctors. Paul's visionary gifts for the mission's ministries inspired a letter to Fern and me about helping to establish an agricultural training school in Congo. It would fill the vacancy of the Belgian agricultural agents who had fled for their own safety. Even though Paul was not directly part of our mission organization he could see where God was opening up ministries and opportunities to serve.
1963 –DR-Congo
Forward now to 1963 when Paul, as a career missionary at Wasolo, answered the call from a close doctor friend who was nursing her husband, very sick from malaria. She was completely exhausted and could see very little improvement in his condition. Via short wave radio, she asked for Paul's advice. Paul was 17 hours away at his hospital site but he could sense the need to not just give advice but to relieve his friend by going to help her. On the way he did not forget his friends the Wickstroms, going 20 miles out of his way to learn how we were doing and, of course, get a cup of coffee.
When Paul arrived at Tandala after 17 hours over bumpy, slick dirt roads, one of his first actions was to say to his friend "Go home and take a long sleep because I'm taking over and we'll see this through until your husband is well." His compassion and leadership came through so clearly as his aided his friends in their dark hour.
Paul, my friend, was a compassionate and visionary servant of God.