The Congo Clinic Initiative
We are seeking churches, groups, or families to partner with us to engage in an
authentic, high impact partnership
to support life-saving medical care in the Democratic Republic of Congo.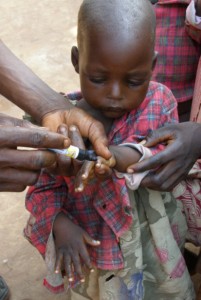 Obstacle: Medical care is inaccessible for the 1.6 million people in Congo's Équateur Province. Typically, the closest hospital is a ten-mile walk and local village clinics lack basic necessities. The clinics operate without electricity or clean water. Medicines and supplies are available only intermittently. Curable illnesses take lives every day.
Objective: To increase access to medical care by developing the village clinics and to provide essential resources to raise the standard of care. We are seeking partners for a united and coordinated effort. Together we can overcome this tragic reality.
Outcome: You can equip a clinic to operate for a year and provide it with first-time solar electricity. Deaths from treatable diseases will be prevented with a dependable stream of medicines and supplies. Salaries will equip staff members to feed their families. Lives will be saved. You Will Receive:
A photo and details of a clinic to be praying for.
Quarterly updates about Congo, the culture, life there, and medical realities.
Congolese devotionals and activities will inspire us to learn from God's Kingdom as revealed by our Congolese brothers and sisters.
Activities for you or your church to develop a knowledgeable heart for Congo.
Updates about the Congo Clinic Initiative projects (solar electricity, clean water, refrigeration, etc.)
Together we can raise the accessibility and standard of medical care that will save lives. Join us!
CCI Updates and Resources
We try our best to update our clinic partners on a regular basis about the progress of the Congo Clinic Initiative! We do this in several ways:
CCI Quarterly Newsletter
PCP Promise Newsletter
Click here to visit the CCI Updates and Resources page.
I have witnessed the incredible staff that work in the clinics and hospitals in Congo, who are full of joy and faith. We have the priviledge to provide resources to help them accomplish the task of healing the body and soul.

Jim Holst
Bayside Covenant Church

Joining with PCP to sponsor health clinics in Congo has been an awesome experience for Kent Covenant Church. We started out with the idea of sponsoring one but when we put it in front of our congregation the giving was so overwhelming that we ended up sponsoring two. Our people realized supporting these clinics is a way to make a tangible difference in the lives of hurting people in one of the poorest places in the world.

Keith Carpenter
Kent Covenant Church

The Congo Clinic Initiative gave our church the opportunity to be assured that real needs are being met in Jesus' name. Our church has the benefit of knowing that we are investing in sustaining lives in one of the most under-resourced parts of the world. I am grateful for PCP's advocacy, integrity, and missiological competency which allows us as a local body to best steward our Gospel passion in ways that empower and aid the people of Congo.

Gary Gaddini
Peninsula Covenant Church