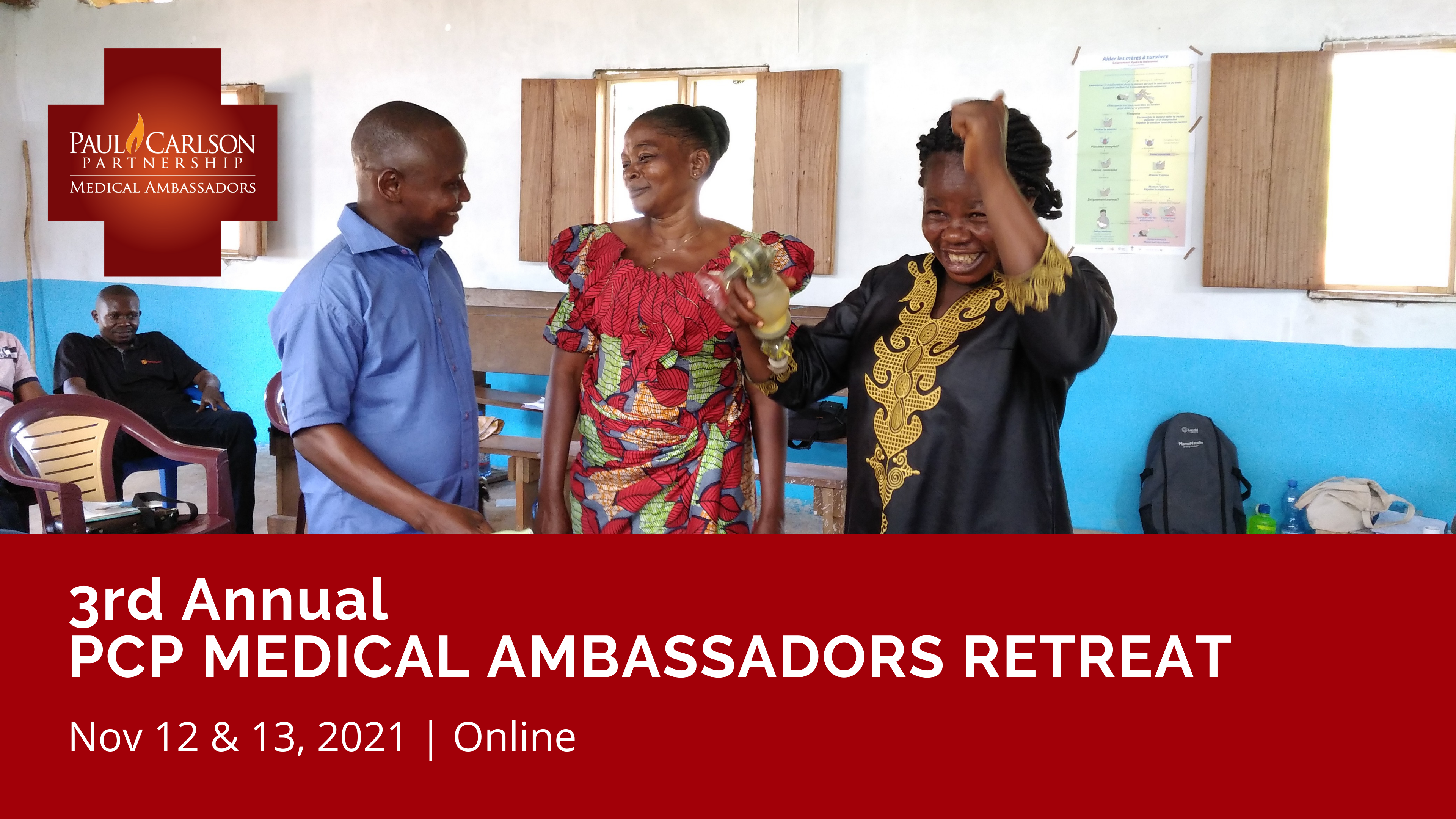 3rd Annual PCP Medical Ambassadors Retreat
Dear friends and interested medical professionals,
We have come to appreciate technology in the past 18 months like we never could have imagined! For some, you may still be living on Zoom meetings and for that we send our apologies in advance! We took the feedback from last year's virtual retreat and have created a shorter and engaging experience we hope will peak your interest.

At the 3rd Annual PCP Medical Ambassadors Retreat you will hear an update from the Paul Carlson Partnership (PCP) staff, from Dr. Kelley Shultz on her first time being a team member on a teaching trip in September 2021, and most importantly, our two physicians and two nurses from the health system in Congo will share their perspectives on our partnership. Our goal for our time together is to deepen our relationships, share relevant information with you so the Holy Spirit can guide and direct us in how we can be a part of being the hands and feet of Jesus. This retreat is for both experienced PCP Medical Ambassadors and those new to the program wanting to learn.

We hope you can join us!

Ann Hagensen, RN
Volunteer President
PCP Medical Ambassadors
Dates & Times
Friday, November 12, 2021
8:30 – 11:00 pm EST
7:30 – 10:00 pm CST
6:30 – 8:30 pm MST
5:30 – 8:00 pm PST
Saturday, November 13, 2021
11:00 am – 1:30 pm EST
10:00 am – 12:30 pm CST
9:00 am – 11:30 pm MST
8:00 am – 10:30 am PST
Purpose
Create a learning environment for health professionals interested in any type of involvement with PCP Medical Ambassador's work in Congo. Obtaining a deeper understanding of our commitments between the CEUM Medical Department and PCP Medical Ambassadors.
Connecting personally in our common interest to serve the work in Congo
Enhance the interrelationships with our Congolese partners
Exploring new ways to create, support, and encourage our Congolese counterparts through teaching, training and communication.
Friday, November 12
Welcome
Small breakout groups
Overview of the PCP Medical Ambassadors
Perspective from a new Ambassador
Introducing our Congolese medical colleagues
Saturday, November 13
Congolese Culture Overview
Panel discussion with Medical Ambassadors and CEUM Medical leaders
Discussion/reflection time/wrap up