The Democratic Republic of Congo is nationalizing its healthcare system with heightened standards and increased expectations….but no funding to support these expectations. In response, the CEUM has had to create a second nursing school to meet this new level of education. Nursing schools require tremendous resources to prepare students for a future in nursing.
Nurses are the backbone of Congo's health care. After graduation, Nurses go on to work in either a hospital or a clinic run by the CEUM. Many Nurses function as independent practitioners, running clinics with physician oversight only once per month.
Students are supported solely by their families who often work as subsistence farmers. Education costs often become burdensome, causing students drop out. Those who persevere do so are challenged to pay their tuition, go without food, study without electricity, and rely on memory.
The good news is that the 120 students at the associate's-level school have a passing rate of 100 percent! And the 40 students at the university-level are on track to graduate their first class. They are passionate men and women, with a desire to impact their community.
By supporting nursing education, you will help keep these hardworking students in school, support school resources, and change communities for generations to come.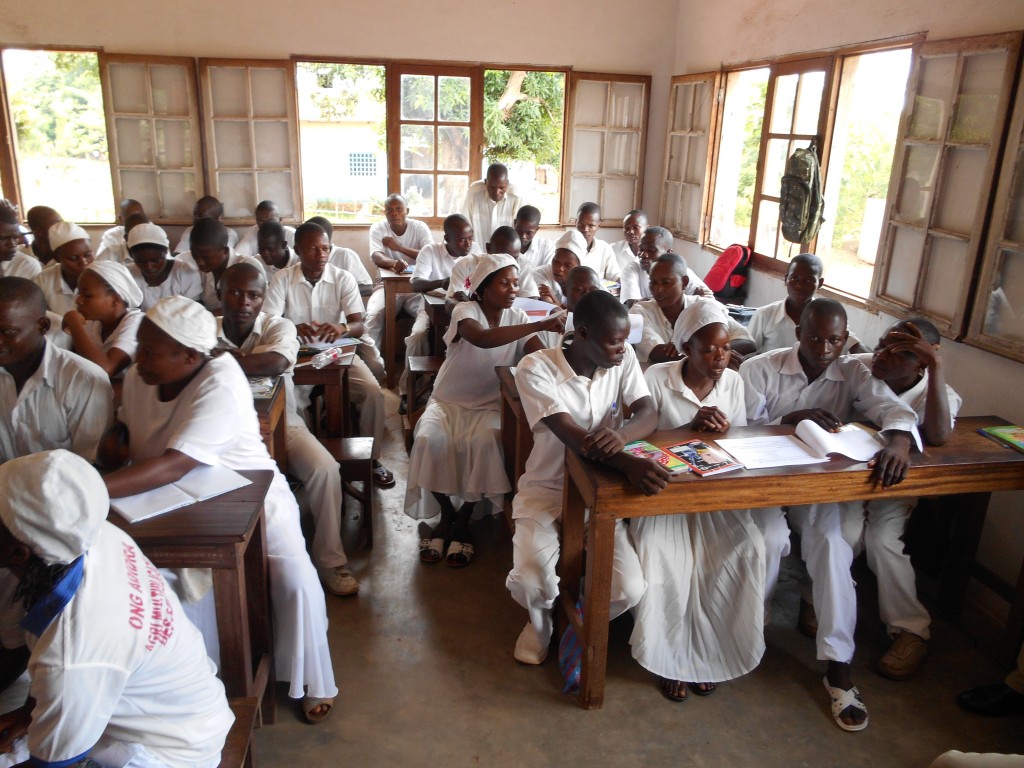 Nadej is a 21 year old student in her third year of the lower-level Nursing school. She wants to be a nurse because she has always had a passion to help others.
She lives in a dormitory with other students, which is not equipped with running water or electricity. Nadej wakes up at 5:30 every morning, walks to fetch water, and prepares her own food, if she has it. Some nights, she studies by candlelight and goes to bed hungry.
She is supported by her parents, who made the tough decision of which child to send to school. Nadej fears that her education will be too burdensome for her family, and that she may have to drop out of school. But she continues to work hard, and hopes that as a Nurse she will be able to support her family.
Nadej is grateful for the opportunity to be in nursing school and work towards a brighter future.
Augustin is the Dean of the University level Nursing school in Karawa. He is 32 years old, married, and has three children. He and his family live in Bumba which is 12-14 hours away by motorcycle.
Karawa is so remote that the community doesn't have University trained professors to teach the students. Augustin teaches at the school for 3-4 week periods and recruits other professors to teach other periods.
While teaching, Augustan lives at the school in one of the classroom closets. When the visiting professors are in Karawa, Augustin goes home to his family and his other job in Bumba.
Augustin is passionate about quality nursing education that will transform the lives of his students, and the health care system in this developing community. He is dedicated to helping the first class of students graduate in the spring of 2016.
Professors like Augustin are equipping the next generation of nurses to be leaders and providers in their communities.