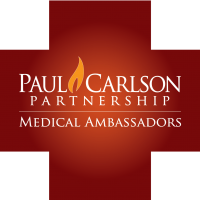 Medical Ambassadors
A PCP Medical Ambassador volunteer is a compassionate, dedicated medical professional investing his or her skills in service to Congo.
Training the Trainers
Through the "Training the Trainers" method, our goal is to multiply medical training for long-term impact. Medical teams traveling to Congo train a group of local medical professionals in their area of expertise. Congolese professionals return to their facility, where they train 8-10 people on the specific skill.
Ann-Marie Zuku, a nurse at the IPOK clinic in Gemena, DRC, received a training called, "Helping Mothers Survive: Bleeding After Birth."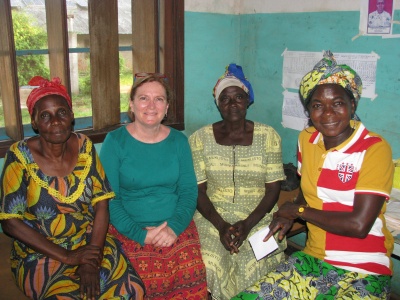 Medical Ambassador Focus Groups
Adult Medicine/Public Health
Dentistry
Emergency Care
Eye Care
Hospital Administration
Maternal Health
Nursing
Pediatrics
Pharmaceuticals
Surgery/Anesthesiology
Traveling to Congo
Medical Ambassador teams travel to Congo several times per year to build relationships, meet with their medical colleagues, and train in specific skills and procedures. Not every volunteer will travel to Congo; we have opportunities for volunteers to support the work from home.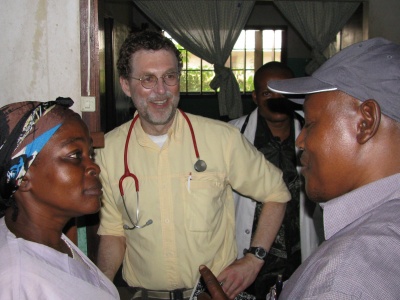 Upcoming Medical Ambassador Trips to Congo
September 2017
The Medical Ambassador team will be traveling to Karawa for two weeks to train nurses in several skills and procedures to improve their standard of care through the following courses:
Helping Mothers Survive: Blood Pressure in Pregnancy (Pre-eclampsia & Eclampsia)
Improve Medical Charting System
Mixing Medications
Urinary Catheterization
Head-to-Toe Assessments (Basic Nursing Assessment)
Nursing Faculty and Directors training

To complete this training in Congo, and to provide materials and medicines for training to continue after the team returns to the USA, the Medical Ambassador team is raising support to purchase the following items:
| | |
| --- | --- |
| Urine sticks | $1,427 |
| In-country medicine purchases | $1,100 |
| Translating & printing Pre-eclampsia/Eclampsia materials into French | $575 |
| Printing Basic Nursing Assessment materials | $500 |
| Blood pressure medications | $430 |
| Other medications and supplies | $300 |
| Shipping materials to Gemena | $164 |
| | |
| Total needed | $4496 |
Any amount is appreciated!
All donations received will be used for the Medical Ambassadors trip/training in Congo (at this time, we can only receive monetary donations due to weight limits and specific needs). Thank you!
Medical Ambassador Stories
Our Medical Ambassadors are dedicated to working alongside their Congolese colleagues to learn, grow, and support the work in Congo. Here are a few stories of their experiences and challenges along the way. To receive these stories by email, sign up for our newsletter!
Become a Medical Ambassador!
If you are a student, currently in practice, or retired, and have always wondered how you can use your training in international service, this program is for you!
The Medical Ambassador program seeks to come alongside our partners in Congo for lasting change. We believe in training-the-trainers and learning from our Congolese medical colleagues who are experts in their field. Though they may not have the same resources, they are highly capable and experienced in caring for the people in their communities. Our goal is to come alongside in support and be transformed.
If you are interested in learning more about this program, please contact us!