Partnering with PCP means training, encouraging, and equipping Congolese doctors and leadership in their vital and life-saving, life-sustaining work. Your financial donations support the legacy of Paul Carlson's work in the Congo and are a critical link to transformed and saved lives. We invite you to learn more about our sisters and brothers who live in deeply disadvantaged places around the world — and act in solidarity with them.
Medical Professionals
We facilitate collaboration between medical professionals in North America and their counterparts in Congo. Medical Professionals! Looking for a way to get involved? Our Medical Ambassadors are a group of compassionate, dedicated medical professionals applying their skills for transformed and saved lives. They focus on training the trainers for multiplied medical impact in DR-Congo. Learn more here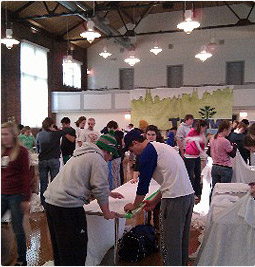 Churches/Groups
The Paul Carlson Partnership is bringing healing, hope, and self-sustainability, and you can join us! In addition to financial commitment, we invite local churches and groups to build a knowledgable heart for Congo within the culture and fabric of their congregation. Your group can partner with a clinic to lift up all of our CEUM medical facilities. Email us to learn more!